Overcoming Strongholds - Who and What Part 1
Views 1689
I was surprised when I looked up the word strongholds in the bible and found it is in the New Testament once and all others are in the Old Testament. In the Old Testament it refers to physical places. In the New Testament it refers to the spiritual battle in our mind.
There are books, gatherings, teachings, and sermons on the subject of spiritual warfare against strongholds, however they seem to miss a believers warfare is caused by people teaching false doctrine. It is the weapons that are spiritual. Not to say Satan, who is a created spiritual being, does not rule the world system at this time, because he does. But the warfare is Satan's attack on the Word of God, Jesus Christ, and the Truth.
Our True Enemy
1 Peter 5:8 ESV Be sober-minded; be watchful. Your adversary the devil prowls around like a roaring lion, seeking someone to devour.
Satan is everyone's enemy. However, it is when you stop being lead by him and live lead by Christ submitted to the control and power of the Holy Spirit, that this becomes a reality.
James 4:4 ESV You adulterous people! Do you not know that friendship with the world is enmity with God? Therefore whoever wishes to be a friend of the world makes himself an enemy of God.
1 John 2:15 ESV Do not love the world or the things in the world. If anyone loves the world, the love of the Father is not in him.
Loving the world makes us an enemy of God and thereby the "Father is not in you." The world and all it offers is our enemy.
Galatians 5:17 ESV For the desires of the flesh are against the Spirit, and the desires of the Spirit are against the flesh, for these are opposed to each other, to keep you from doing the things you want to do.
The believers flesh has a focused passion against walking according to the leading of the Holy Spirit. This means our flesh has its heart set on rebelling against God.
Satan, the ways and offering of the world, and our flesh war against us every minute of every day. They all three want one thing, walk in rebellion to God.
Strategy of the enemy
Satan - In Ephesian 6:12 we find a description of our enemy.
1. Rulers - the initial starting point (bible.org)
2. Powers - more powerful among created beings superior to man (Thayer's Greek Lexicon)
3. World forces - referring to Satan (demons) influencing lives of worldly people (used only in Eph 6:12). (HELPS Word-studies)
4. Spirital forces - pain-ridden evil, (misery)
(HELPS Word-studies)
Satan (demons) are ruling the world system. The world has been, is, and will continue on its course to death because sin permeates and Satan rules over sons of disobedience to rebel against God. Therefore, since the wages of sin is death, there is no other option.
World system
It is in Genesis 3 we get our first glimpse into Satan's battle plan against God.
1 John 2:16 tells us the world offers only the following...
1. Lust of the flesh
2. Lust of the eyes
3. Pride of life
Genesis 3 is where everything changes and Satan's world strategy is applied.
v1-5) Satan convinced Eve God lied. He lied to keep something good from her. God's lies kept Him as ruler over her and she really didn't need God because there is a way she can be like God and rule over herself.
The how
v1-5) Satan - Eve, God doesn't want you to know what He knows and He knows eating this fruit will give you something.
Eve - Ya know, this fruit really does seem to be good enough to eat. I mean, like wow, I bet it is delicious (Lust of the flesh) and the longer I look at this fruit the more I think, I will take a bite because it looks "delightful" ( Lust of the eyes). Ok, will taste good, looks good, and if I eat this I'll have my own wisdom. I can decide for myself what is good for me and what isn't. I will be independent. (Pride of life)
We are seeing 1 John 2:15-16 acted out before our eyes for the first time. After Adam and Eve's disobedience God's creation became tainted with sin and mankind became corrupt. Now we live under the curse but God promised the defeat of Satan would come.
The promised One and His first victory over Satan
Luke 3:21-22, tells us about Jesus. He was baptized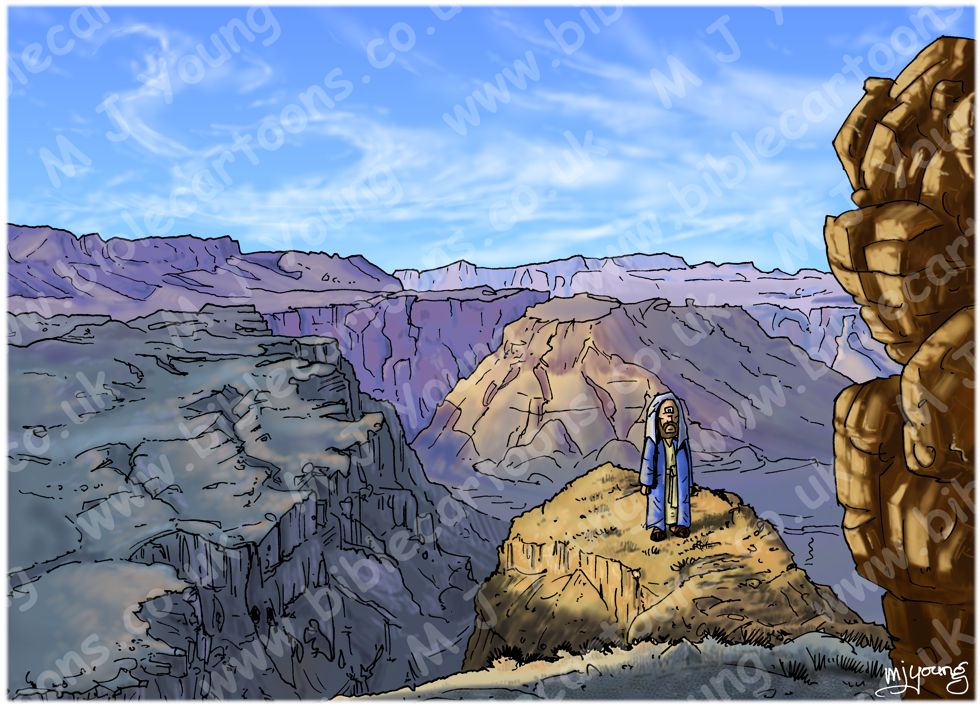 in the Holy Spirit and God - His Father confirmed He is the Son of God. Jesus is His beloved Son, whom He is well pleased with and in Luke 4:1-14 the scene changes. Jesus is led by the Holy Spirit into the wilderness to be "tested exceedingly" for forty days. During those forty days while Jesus was tested by the devil, He did not eat. Though there were many tests we are told of three.
1. (v3-4) Jesus is very hungry. Satan makes his move by calling His sonship to God in question and telling Him to satisfy His hunger pains by turning stones to bread (Lust of the flesh)
Jesus answered - it is written (obedience)
2. (v5-8) Satan takes Jesus up to a high mountain where Jesus could see all the kingdoms of "the habitable world."
Satan said - Jesus, you bow down to me just once and I will give all this to you. It is mine to give as I please, just look at all You could have by worshipping me. (Lust of the eyes)
Jesus said - It is written (loyalty)
3. (v9-12) Satan tries again. Look here Jesus, if you're the Son of God there is a way to prove it.
This time Satan said, It is in written: "He will give His angels charge over you to guard and watch over you closely and carefully; and on their hands they will bear you up, lest you strike your foot against a stone." Go ahead prove You are the Son of God by showing Your power and ability to save yourself. (Pride of life)
Jesus said - the scripture says (humility)
As you see Satan's tactics haven't changed. He still wants to be God, worshipped, and use scripture for selfish gain. He has success because he is more intelligent and crafty than people. Our rebellion toward God causes blindness and lack of wisdom. However, he could not deceive Jesus. Why? Jesus is the Messiah. He is Emmanuel, God with us. Don't allow the enemy to convince you there is no hope of change. Jesus shows us our first step, which is, it is written. We must know the only living God and Jesus as the Christ.
This is a big picture. Next time it will be on what we battle specifically.
---
Cited:
Biblegateway.com (we use Bible verses from this site)
Related Reading
Overcoming Strongholds - How To Achieve This Part 2
Overcoming Strongholds - Foundation Part 3
Have a question about Overcoming Strongholds - Who and What Part 1
Click Here to Ask Your Question
August 01, 2018 - LHWMThank you for reading this Bible Study teaching. We hope it brought you closer to Jesus. Have a question about this bible study? Great ask your question by clicking on the button. We also accept prayer request, God Bless You.
response by LHWM --->
---