Running From God
Views 1633
Running from God is not uncommon. Unbelievers and believers alike run from God. Running from God will cause your life to become ONE BIG GIANT mess. This can cause chaos, depression, loneliness, abandonment, heartache and the list goes on. We are choosing to run from the God Who knows all things. Why?
Why do we run from God. Well from personal experience I (Jennifer Bledsoe) can tell you it was from shame, guilt, anger and etc. Other times I did not even know I was running. I did not recognize that running from God was connected to the sin in my life which was destroying it. Who knew! Now that I know and recognize my behavior I ask God to give me courage and strength to face what ever it is at that time (anger, fear, disappointment, etc.) and keep my feet firm in Him. Each day is a new day that we must stand in faith and press on in our walk with the Lord. Some days are easy and some not so much.
Psalm 139:1 You have searched me, Lord, and you know me. 2 You know when I sit and when I rise; you perceive my thoughts from afar. 3 You discern my going out and my lying down; you are familiar with all my ways. 4 Before a word is on my tongue you, Lord, know it completely. 5 You hem me in behind and before, and you lay your hand upon me. 6 Such knowledge is too wonderful for me, too lofty for me to attain. 7 Where can I go from your Spirit? Where can I flee from your presence?
The question is, where can I go and where can I run to get away from You?
The answer is no where
There were many people in the bible who ran from God in one way or another. We will look at
three
one being
David
, another
Saul
(Paul), and finally
Jonah
. Let's read how each of these people ran from God and how God responded to them.
Running from God
David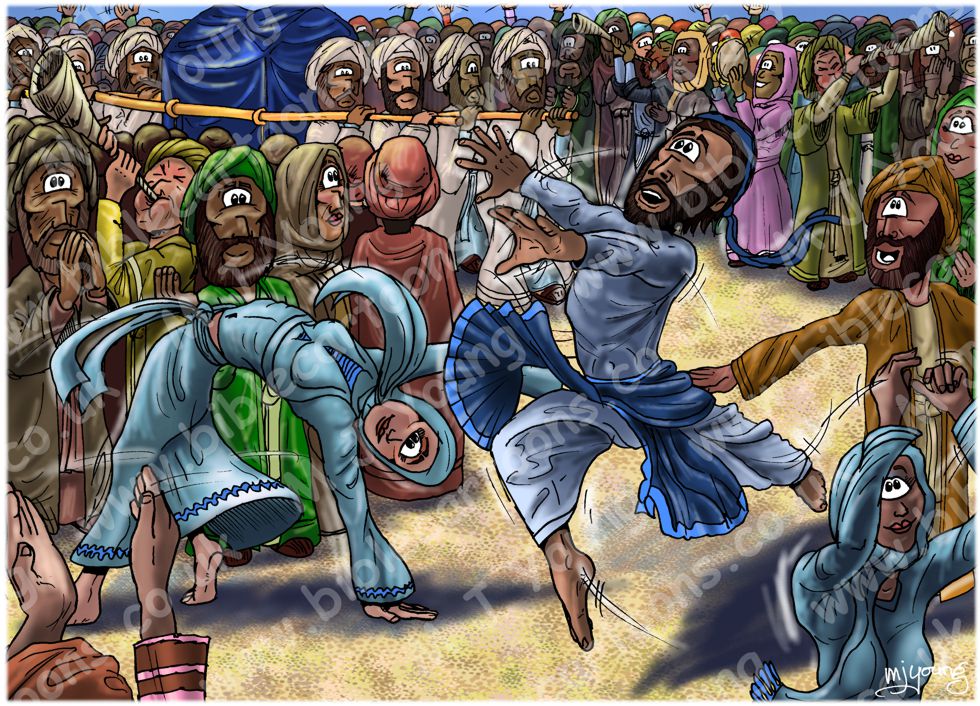 In 2 Samuel 11:11 ESV Uriah said to David, "The ark and Israel and Judah dwell in booths, and my lord Joab and the servants of my lord are camping in the open field. Shall I then go to my house, to eat and to drink and to lie with my wife? As you live, and as your soul lives, I will not do this thing."
In the spring of the year, the time when kings go out to battle, David sent Joab, and his servants with him, and all Israel. And they ravaged the Ammonites and besieged Rabbah. But David remained at Jerusalem.
David, king of Israel, was to have left Jerusalem and gone to battle, but instead David ran from the responsibility God had given him. At that moment David was suppose to be going to war, but what did he do instead?
He RAN!
His sin of disobedience lead to the sins of adultery, lying, and murder. He ran from his sins and God for a year.
What happened when David Ran
Read Psalm 51 - Summary below of Psalm 51
When David was rebuked by the Prophet Nathan for his great offenses, he did not only acknowledge the same to God, with protestation of his natural corruption and iniquity, but also left a memorial thereof to his posterity. Therefore first he desireth God to forgive his sins, and to renew in him his holy Spirit. With promise that he will not be unmindful of those great graces. Finally, fearing lest God would punish the whole Church for his fault, he requireth that he would rather increase his graces toward the same.
It is now one year later for David and Nathan is confronting David about his sin. In this Psalm David confesses, repents, and asks to be restored. He also describes what was going on inside his soul.
David's sins haunted him relentlessly. He says they were "ever before him." He could not get away from his thoughts or guilt. The weight of his sins and the conviction of the Holy Spirit was so heavy he felt as if he were being crushed. David lost his peace and joy, his conscience was not clear.
What response did God get from David
David ask for mercy and pity. He admitted he had sinned against God and had done what was evil in God's sight. David ask God to wash him of his guilt, cleanse him of his sin, and create in him a clean heart. David had an encounter with the Lord God.
What did God do
God had mercy and compassion on David, and David received forgiveness. He was given the joy of his salvation back through faith in Jesus Christ. He was restored! God still forgives those with a repentant heart. God will restore or give the joy of salvation through faith in Jesus Christ.
Saul
Saul was a Pharisee. He thought he believed in God and knew God's word but he rebelled against Jesus as the Messiah. Saul killed and
imprisoned Christians as he ran from the Truth. Saul believed "it was my duty to do things contrary to and in defiance of the name Jesus of Nazareth." (Acts 26:9)
What Did Saul Do
Acts 7:54 Now when they heard this [accusation and understood its implication], they were cut to the heart, and they began grinding their teeth [in rage] at him. 55 But he, being full of the Holy Spirit and led by Him, gazed into heaven and saw the glory [the great splendor and majesty] of God, and Jesus standing at the right hand of God; 56 and he said, "Look! I see the heavens opened up [in welcome] and the Son of Man standing at the right hand of God!" 57 But they shouted with loud voices, and covered their ears and together rushed at him [considering him guilty of blasphemy]. 58 Then they drove him out of the city and began stoning him; and the witnesses placed their outer robes at the feet of a young man named Saul. 59 They continued stoning Stephen as he called on the Lord and said, "Lord Jesus, receive and accept and welcome my spirit!" 60 Then falling on his knees [in worship], he cried out loudly, "Lord, do not hold this sin against them [do not charge them]!" When he had said this, he fell asleep [in death].
Saul hated Jesus and His followers. He agreed with persecuting, imprisoning, and killing them. Saul's hatred of Jesus caused him to treat the church with cruelty and violence. His heart was filled with hate and death.
What did God do
Acts 9:9 Now Saul, still breathing threats and murder against the disciples of the Lord [and relentless in his search for believers], went to the high priest, 2 and he asked for letters [of authority] from him to the synagogues at Damascus, so that if he found any men or women there belonging to the Way [believers, followers of Jesus the Messiah], men and women alike, he could arrest them and bring them bound [with chains] to Jerusalem. 3 As he traveled he approached Damascus, and suddenly a light from heaven flashed around him [displaying the glory and majesty of Christ]; 4 and he fell to the ground and heard a voice [from heaven] saying to him, "Saul, Saul, why are you persecuting and oppressing Me?" 5 And Saul said, "Who are You, Lord?" And He answered, "I am Jesus whom you are persecuting, 6 now get up and go into the city, and you will be told what you must do." 7 The men who were traveling with him [were terrified and] stood speechless, hearing the voice but seeing no one. 8 Saul got up from the ground, but though his eyes were open, he could see nothing; so they led him by the hand and brought him into Damascus. 9 And he was unable to see for three days, and he neither ate nor drank.
Jesus confronted Saul with his sin. Jesus, the light of the world, knocked him off his horse. Now that God has his attention He ask "Why are you persecuting Me?"
Saul has no idea who this is, he ask, "Who are you Lord?"
He may not have known who Jesus was but he knew this Person was more powerful and superior to him. The answer, "I am Jesus Whom you are persecuting."
Jesus came to an unbelieving murderer and Saul's heart, mind and soul was forever changed. After 3 days of not eating or drinking Ananias came to Saul as the Lord commanded him. Ananias is someone who did not run from God!
Acts 9:17 So Ananias left and entered the house, and he laid his hands on Saul and said, "Brother Saul, the Lord Jesus, who appeared to you on the road as you came [to Damascus], has sent me so that you may regain your sight and be filled with the Holy Spirit [in order to proclaim Christ to both Jews and Gentiles]." 18 Immediately something like scales fell from Saul's eyes, and he regained his sight. Then he got up and was baptized; 19 and he took some food and was strengthened. For several days [afterward] Saul remained with the disciples who were at Damascus. 20 And immediately he began proclaiming Jesus in the synagogues, saying, "This Man is the Son of God [the promised Messiah]!" 21 All those who heard him continued to be amazed and said, "Is this not the man who in Jerusalem attacked those who called on this name [of Jesus], and had come here [to Damascus] for the express purpose of bringing them bound [with chains] before the chief priests?"
Saul the hater of Jesus is now proclaiming Jesus as the Son of God. He had an encounter with the Lord God. Saul received salvation through faith in Jesus Christ.
How did Saul, who became Paul, come to see himself
Romans 7:24 Wretched and miserable man that I am! Who will [rescue me and] set me free from this body of death [this corrupt, mortal existence]? 25 Thanks be to God [for my deliverance] through Jesus Christ our Lord!
He saw himself for who he was without God, miserable and only Jesus Christ as Lord in his life could change that. God wants the same from everyone. Stop running, repent and turn to God through faith in Jesus Christ.
Jonah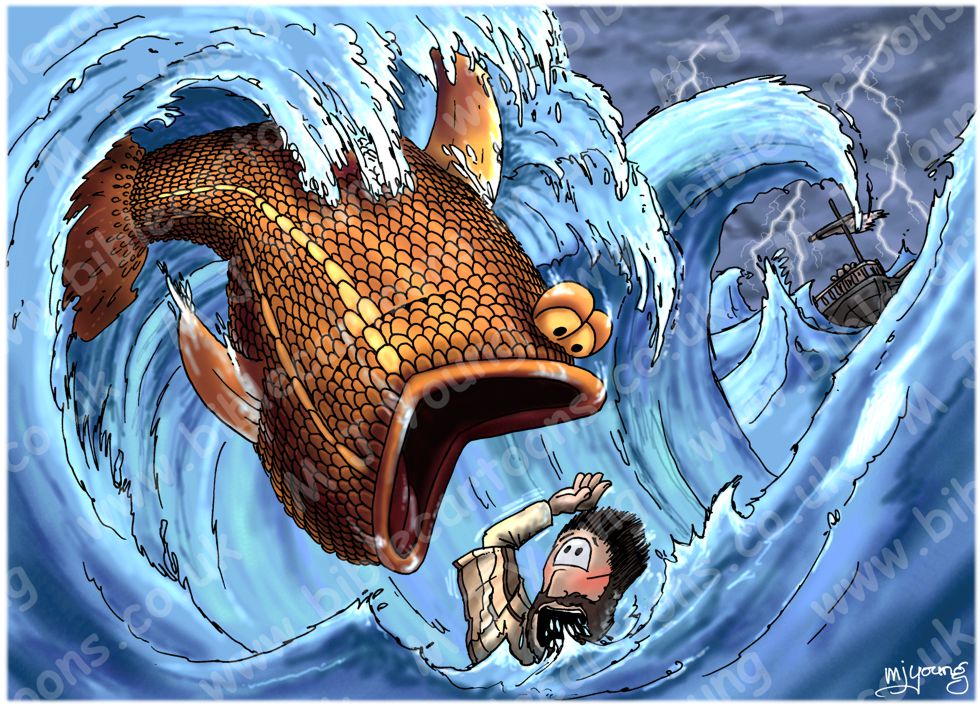 Jonah 1:1-3 1 The word of the Lord came also unto Jonah the son of Amittai, saying, 2 Arise, and go to Nineveh, that great city, and cry against it: for their wickedness is come up before me. 3 But Jonah rose up to flee into Tarshish, from the presence of the Lord, and went down to Japho: and he found a ship going to Tarshish: so he paid the fare thereof, and went down into it, that he might go with them unto Tarshish, from the presence of the Lord.
God spoke directly to Jonah and there was no misunderstanding of what God wanted. "Go to Nineveh, and proclaim against it, their wickedness has come up before Me." Jonah wasted no time, he got up went down to the docks and bought a ticket to sail to Tarshish.
Map of Jonah - Noticed how he completely goes the opposite direction of where God wanted him to go.
Tarshish was as far as he could get from Nineveh. Why did he do this? He did this to run from "the presence of the Lord"? He did not want to be the prophet to go and condemn Nineveh for their sins and call them to repentance. Why not?
Nineveh was the capital of the Assyrian Empire and they were torturing the Jews. God describes Nineveh in Nahum chapter 3 as a violent bloody city, full of lies, stolen goods, and their victims never leave alive. God sending Jonah to Nineveh would be like sending a Christian to ISIS to shine the light of the gospel of Jesus Christ. Yeah we may sing the songs and say the words but that is not faith or obedience. It is the walking of the gospel that is obedience.
Why did Jonah run?
Jonah 4 - Jonah ran because he knew God is patient, merciful, and compassionate. Jonah tells God, I knew they would repent and You are "always ready to forgive and to reconsider Your threats of destruction" and I hate that. Jonah wanted God's judgment to come upon them. Jonah wanted revenge because he believed they deserved it, to the point he would rather be dead than watch God have mercy on them.
Jonah ran because of his thinking of justice and wanting his way. We all have had people in our lives who have done and said hurtful and terrible things and maybe our thinking and feelings say they don't deserve any kind of pardon. They will be guilty until I decide.
What happened to Jonah
Jonah 1 - When Jonah boarded the ship he went down and went to sleep. No guilt here. He was relieved. He thought he had found a way out, but God had other plans. God has a way of bringing our sin out. While Jonah was sleeping the Lord sent out a great wind upon the sea, and there was a violent tempest on the sea so that the ship was about to be broken. "Then the mariners were afraid, and each man cried to his god; and they cast the goods that were in the ship into the sea to lighten it for them. But Jonah had gone down into the inner part of the ship and had lain down and was fast asleep."
The captain finds Jonah sleeping, gets him up, and brings him up top. They confront Jonah and he confesses he is the reason for the storm. Jonah tells them to throw him overboard and the storm will quiet and the sea will be calm but for Jonah it became worse. God continued to intervene and confront Jonah's sin. Jonah was swallowed by a big fish and stayed in the belly for three days and nights.
What response did God get from Jonah?
Jonah 2 - Jonah cried to the Lord for help because he was dying. He offered a sacrifice of songs of thanksgiving to God. Then God spoke to the fish, and the fish vomited Jonah out on dry land. Jonah now gets a second chance to obey God. Does he listen?
What Happened To Jonah After the fish vomited him out
Jonah 4 - Jonah went to Nineveh and did what the Lord asked him to do. The people of Nineveh repented and Jonah was very upset and angry about the whole situation. He was so upset he told God, "I'd rather be dead than alive." God ask Jonah, "What right do you have to be angry?"
Jonah did not receive his joy or peace back, because he allowed anger to rule his heart. The book of Jonah ends with him being angry.
What did God do
God had mercy and compassion on Jonah and he was allowed to live.
What was the real reason of why All
3

ran

Jesus said, "I am the light of the world."(John 8:12, 9:5, 14:6). The light of Jesus shines and exposes our darkness, our sins, but we fight the light to hide our darkness.
How Are These
3

People An Example Of Today

David, Saul, and Jonah ran from God for their own reasons but they have one thing in common, sin. We all have been or are one of these three people in our lives.

We are David's when we carry unconfessed sin. Hopefully your conscience is heavy with guilt as the Holy Spirit convicts you of your sin. Respond like David, God I have sinned against you and have done evil in your sight, please have mercy and compassion on me.

There are many Saul's in this world, full of religion and totally void of a relationship. The only evidence you are saved is, you have been completely changed in your mind, will, and emotions. You crave God - the father, God - the Son, and God - the Holy Spirit. Read Acts 9 and you will see what happens when someone has met Jesus Christ. It happened to me, God wants it to happen to you.

Can you see this woman as a Saul

We are Jonah's when our self-righteousness gets in the way of obedience to God's call. It is not our call on who and who isn't offered the opportunity to repent and turn to God. God will bring humility to the proud heart.

Running from God creates a joyless and heavy heart. Living in the world without God fills the heart with hopelessness. Life is full of storms and chaos that you have no control over and no solution to change. If this is you, rejoice, God is calling you to Jesus Christ.

God is patient, merciful, compassionate, and always ready to forgive whomsoever will come to His Son in faith.

Stop Running from God and Run towards Him! Remember this life is temporary.
---
Cited:
Biblegateway.com (we use Bible verses from this site)
Related Reading
Who Are You and Who Do You Belong To
Do We Obey God For Ourselves
Eternal Destiny - Does Hell Exist?
Have a question about Running From God
Click Here to Ask Your Question
August 01, 2018 - LHWMThank you for reading this Bible Study teaching. We hope it brought you closer to Jesus. Have a question about this bible study? Great ask your question by clicking on the button. We also accept prayer request, God Bless You.
response by LHWM --->
---