Does Hope Still Exist
Views 586
Psalm 42:5 Why am I so depressed? Why this turmoil within me? Put your hope in God, for I will still praise Him, my Savior and my God.
Psalm 119:114 You are my shelter and my shield; I put my hope in Your word.
Psalm 119:116 Sustain me as You promised, and I will live; do not let me be ashamed of my hope.
Proverbs 10:28 The hope of the righteous is joy, but the expectation of the wicked comes to nothing.
Proverbs 24:14 realize that wisdom is the same for you. If you find it, you will have a future, and your hope will never fade.
The dictionary defines hope as: 1. Want something to be true or happen 2. To desire with expectation of obtainment or fulfillment
Suicides are at an all time high. This means hope is being lost. The world is spinning out of control. Nations are giving away their heritage and history to the point that some places no longer resemble their own culture.
Everyone struggles with hope including Christians
Hebrews 11:1 ESV Now faith is the assurance of things hoped for, the conviction of things not seen.
Faith and hope go together. Our faith is the reality and guarantee of the unseen things we hope for.
Romans 8:24 ESV For in this hope we w ere saved. Now hope that is seen is not hope. For who hopes for what he sees? 25 But if we hope for what we do not see, we wait for it with patience.
As Christians we are hoping for something we do not see. We hope and have faith by love.
1 Corinthians 13:7 ESV Love bears all things, believes all things, hopes all things, endures all things.
For a believer hope stays the mind and is the courage of the will to hold fast that which is not yet seen.
Christ has created our faith and He will watch over it, care for it, and sustain it (gotquestions.org).
Philippians 1:6 ESV And I am sure of this, that he who began a good work in you will bring it to completion at the day of Jesus Christ.
Are you sure? Do you trust God's love for you? Do you lean on and completely rely on Christ's love for you? Do you believe Jesus Christ is not only willing but is able? How can you rest your hope in someone you do not trust?
In times of doubt, desperation, and hopelessness turn your eyes to the Only One who loved you first. The One Who's love you did not and can not earn. The One Who died for you while you were living for you. Jesus knows what kind of person He is getting when He saves you and thank God He is able, faithful, and ever unchanging in His truth, ways, and character.
Jesus comes offering faith, hope, and love to us who are/were faithless to God, hoped in the flesh, and hated God. I can, without doubt, tell you Jesus Christ is the greatest gift I have ever received. I say this having gone and go through heartache, sorrow, and suffering.
Because the Gospel of Christ has been perverted we must know what God says about faith, hope, and love.
Galations 5:5 ESV For through the Spirit, by faith, we ourselves eagerly wait for the hope of righteousness. 6 For in Christ Jesus neither circumcision nor uncircumcision counts for anything, but only faith working through love.
Faith works by or through love. Through the Holy Spirit by faith our hope is righteousness. This means:
By God's grace salvation comes

Faith in Jesus Christ comes

By our gift of faith in Christ we are now under God's judicial approval (righteousness)

We now hope and wait for our glorified body (eternal righteousness)
However on this side of heaven we live in a world that is cursed, with people that are in a state of fallen sinfulness, and a battle with our own flesh.
The word works: Energeo - (from 1722/en, "engaged in", which intensifies 2401/ergon, "work")- properly, energize, working in a situation which brings it from one stage (point) to the next, like an electrical current energizing a wire, bringing it to a shining light bulb

1722-en (a preposition)- properly, in (inside,within); (figuratively) "in the realm (sphere) of, "as in the condition (state) in which something operates from the inside (within)

2041-ergon (from ergo, "to work, accomplish")- a work or worker who accomplishes something. 2041/ergon ("work") is a deed action that carries out (completes) an inner desire (intension, purpose) (all from HELPS Word-studies)
Writing the definition is easy but what does it mean and how do we grow in faith, hope, and love.
God's gift of salvation through the finished work of Jesus on the cross gives a new heart that loves God, His Son, His Spirit, His Word, and other believers. Faith is moved from ourself and the world, to in Jesus Christ. Jesus is the author and finisher of our faith (Hebrews 12:2)

God's faith only works through His love within us.

God's love causes our heart to desire Him and His ways which ignites our faith to hope in His love and trust His faithfulness
2 Timothy 2:13 AMP If we are faithless [do not believe and are untrue to Him], He remains true (faithful to His Word and His righteous character), for He cannot deny Himself.
Here is an example of what this may look like: An electric current energizes or gives power to the wire which makes the light bulb shine. The wire is useless without the electricity and the bulb cannot do its function without being attached to the wire which supplies the energy.
Faith, hope, and love work together and all are given as gifts from God. God is love, Jesus came and showed His fathers love, the Holy Spirit bears the fruit of love.
Galations 5:22 AMP But the fruit of the [Holy] Spirit [the work which His presence within accomplishes] is love, joy (gladness), peace, patience (an even temper, forbearance), kindness, goodness (benevolence), faithfulness, 23 Gentleness (meekness, humility), self-control (self-restraint, continence). Against such things there is no law [that can bring a charge].
The work of the Holy Spirit within a believer will accomplish His work and the believer will bear His fruit. Believers possess hope but there are times in which we struggle to keep our head above water.
In Matthew 14:22-32, Jesus has told His disciples to get in a boat and go to the other side of the lake. They headed to the other side when the wind picks up and the waves start rolling which tosses the boat around. Jesus comes to them walking on water and now,not only are they dealing with being in a storm but Someone is walking on the waves and they are freaking out, except Peter:
Matthew 14:28 ESV And Peter answered him, "Lord, if it is you, command me to come to you on the water.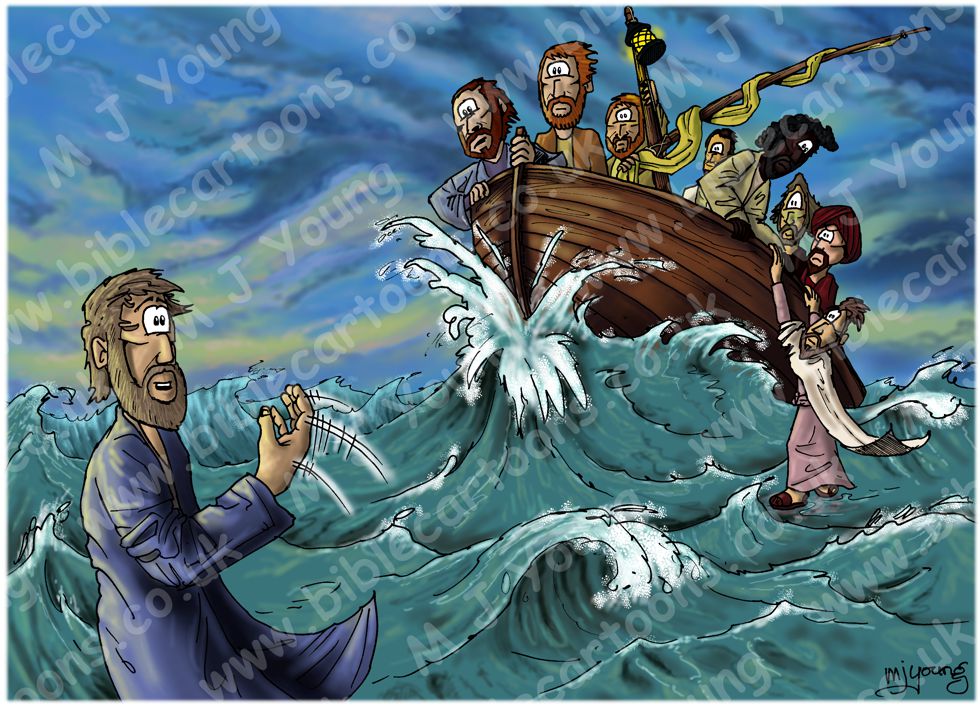 Jesus said: "Come."

Peter gets out of the boat and starts walking on water toward Jesus. Wow what a surreal experience.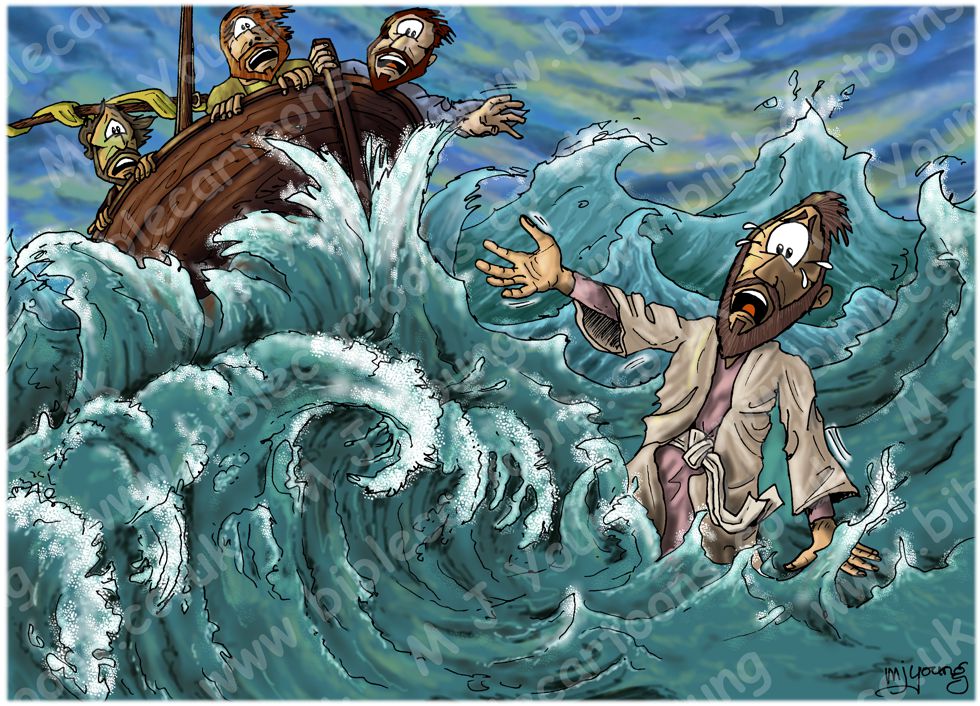 But then: Peter saw the strong wind, fear kicked in, he stopped looking toward Jesus and looked at the impossible situation he found himself in and he began to go under. Peter cried out, Lord, save me. Immediately Jesus took hold of Peter and said: Why did you doubt?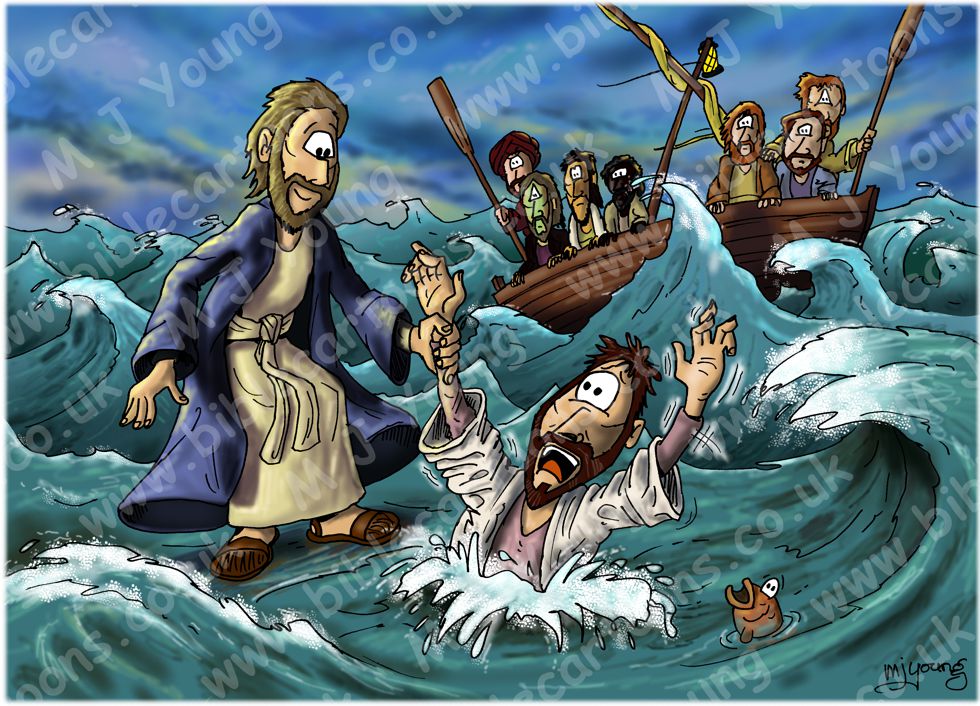 Matthew 14:31 ESV Jesus immediately reached out his hand and took hold of him, saying to him, "O you of little faith, why did you doubt?"
We step out with a heart of faith and hope trusting in the love with which Jesus loves us and BAM the wind picks up, the waves get big, and our life starts tossing from one turbulence to another. We stop looking at the Truth and look at the impossibility of going through the pain, suffering, sorrow, and forgiveness, well, I just can't do that. Then faith, hope, and love begin to take a backseat and we doubt God can be trusted in the one area or in general. To God it is all the same.
In a world that is self obsessed, the thing that suffers the most are relationships and God created people to belong but selfishness pushes that out. The fight believers are engaged in serves that very purpose:
1 Peter 3:14 ESV But even if you should suffer for righteousness' sake, you will be blessed. Have no fear of them, nor be troubled, 15 but in your hearts honor Christ the Lord as holy, always being prepared to make a defense to anyone who asks you for a reason for the hope that is in you; yet do it with gentleness and respect,...
Believers are light to a world that is becoming darker and darker. We are to shine with the faith, hope, and love that is within us for the hopeless to see.
We fight because we know God is calling those who are His to His Son. We fight because we know Satan works diligently to kill faith in God's love, steal hope in the righteousness in Christ, and destroy the fruit of the Holy Spirit shining out in our life.
Romans 5:4 AMP And endurance (fortitude) develops maturity of character (approved faith and tried integrity). And character [of this sort] produces [the habit of] joyful and confident hope of eternal salvation.
Cry out to Jesus, Help me to trust in God's love, to rejoice in the joy of my salvation, and sing praises to Him because He cares for me. Know, Jesus the Christ is worthy of your confident hope that through Him, the unseen, eternal salvation is yours.

---
Cited:
Biblegateway.com (we use Bible verses from this site)
Images by Martin Young - biblecartoons.co
Related Reading
Who Are You and Who Do You Belong To
Armour of God - Prayer Life To Defeat The Enemy, Part 12
Can Truth Set You Free
Have a question about Does Hope Still Exist
Click Here to Ask Your Question
August 01, 2018 - LHWMThank you for reading this Bible Study teaching. We hope it brought you closer to Jesus. Have a question about this bible study? Great ask your question by clicking on the button. We also accept prayer request, God Bless You.
response by LHWM --->
---