Beware of the False Prophets
Views 237
---
Matthew 24:11 NKJV Then many false prophets will rise up and deceive many.
Jesus tells us there will be many false prophets throughout the entire church age and we are to beware of them.
Let's take a close look at false prophets
2 Peter 2:1-3 But there were also false prophets among the people, even as there will be false teachers among you, who will secretly bring in destructive heresies, even denying the
Lord who bought them, and bring on themselves swift destruction. 2 And many will follow their destructive ways, because of whom the way of truth will be blasphemed. 3 By covetousness they will exploit you with deceptive words; for a long time their judgment has not been idle, and their destruction does not slumber.
1. There were false prophets among the nation of Israel (Jeremiah 23:21-22, Deut. 18:20-22, etc.). False prophets are nothing new.
2. False teachers infiltrated the church from the beginning and are in the church today (Gal. 2:4, Jude 1:4, 2 Cor. 11:1-21, etc,) The spreading of lies among God's people is ongoing.
3. False teachers among the believers teach their own opinions, religious and philosophical beliefs (Colossians 2:8). They teach their own take on scripture.
The Breakdown of Their Message
a. They teach doctrine that denies the authority of Jesus Christ. They will not submit to God's word as written.
b. Their motivation is greed not the salvation of lost souls.
c. They teach lies that are laid alongside the truth.
d. They teach it is okay to indulge your sinful flesh and engage in the ways of the world.
e. What they teach is in direct opposition to the Word of God
This is a brief look at false prophets and their ways but for those alert to false doctrine they are the easiest to spot. 1 Timothy 6:3-5 also describes false teachers.
How Does This Look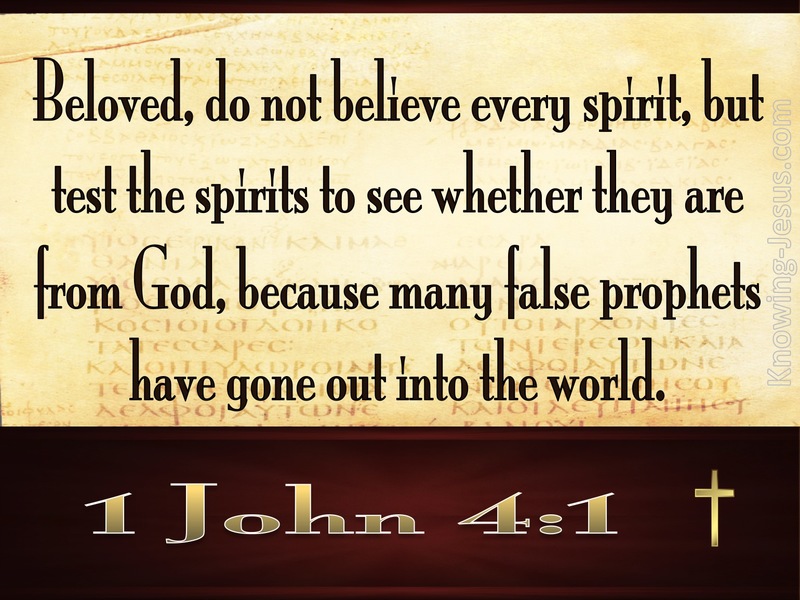 1 John 4:1 NKJV Beloved, do not believe every spirit, but test the spirits, whether they are of God; because many false prophets have gone out into the world. 2 By this you know the Spirit of God: Every spirit that confesses that Jesus Christ has come in the flesh is of God, 3 and every spirit that does not confess that Jesus Christ has come in the flesh is not of God. And this is the spirit of the Antichrist, which you have heard was coming, and is now already in the world.
Teachings of the false prophets are considered the teachings of demons, the Antichrist.
What Does This Look Like
False Prophet - 5578- pseudoprophetes (from 5571/pseudes, "false" and 4396/prophetes, "a prophet")- properly, a false prophet; someone pretending to speak the word of the Lord (prophesy) but in fact is phony (an imposter) acting as a wolf in sheep's clothing. (HELPS Word-studies)
Matthew 7:15 NKJV "Beware of false prophets, who come to you in sheep's clothing, but inwardly they are ravenous wolves.
Ways to be lead astray
2 Timothy 4:3 NKJV For the time will come when they will not endure sound doctrine, but according to their own desires, because they have itching ears, they will heap up for themselves teachers; 4 and they will turn their ears away from the truth, and be turned aside to fables.
There are those who want to be lead astray because they want to live according to their flesh and this world. They profess to be a Christian while going to a church that does not teach biblical doctrine. They want to hear how good they are and God loves them the way they are. God is nothing more than Someone to be used to achieve all your dreams and goals. Then there are the religious who compare themselves to others but only to those who do not measure up to their standard of rule keeping. And there are those who are ignorant of what God's word actually says because they rely on someone else to read the bible and tell them what it says.
All religions that teach salvation is through your good works is false but these false prophets are not outside the church, they have infiltrated the church. Today most churches are full of pretend teachers of God and pretend people of God. How do we know? Look at the godlessness engulfing the globe. Why is this important?
Pastors speaking on what a false prophet or
falseness looks like

What Are the Marks of a False Teacher?
The following is an excerpt from The MacArthur New Testament Commentary on Matthew 7:15-20.

Beware of the false prophets, who come to you in sheep's clothing, but inwardly are ravenous wolves. You will know them by their fruits. Grapes are not gathered from thorn bushes, nor figs from thistles, are they? (Matthew 7:15–16) After warning about false prophets, Jesus tells us what to watch for in identifying them. Because they are so extremely deceptive and dangerous ravenous spiritual and moral wolves in sheep's clothing-the Lord would hardly have left us without means of determining who they are. Jesus assures us that we will know them by their fruits. A fruit tree may be beautiful, decorative, and offer pleasant shade in the summer. But its primary purpose is to bear fruit, and it is therefore judged by what it produces and not by how it looks.... more
What Will The End Times Show
Back to Matthew 24. Why? Jesus is telling of the events that will happen before His return. These events are moving faster and faster just like the pains of child birth.
This website link below exposes false teachers who teach the doctrines of demons. This is but a drop in the bucket to the many who teach against God's word.
Exposing The ELCA website has some pages with VERY VERY FOUL LANGUAGE due to embeds from social media, comments and possible videos, beware... What is the ELCA --> Exposing the ELCA has a multitude of information which ELCA members and other Christians need to know. Under the "ELCA Exposed News" heading you will find information about what the ELCA teaches on 1) the Bible, 2) Universalism, 3) Homosexuality, 4) Goddess Worship/Mother god and gender neutral language, 5) Israel, 6) Abortion, 7) Radical Hospitality, 8) Transgenders & Drag Queens, 9) Prophecy, 10) Called to Common Mission, 11) Gospel Reductionism - Antinomianism, 12) Social Media (what they write about), and 13) Other Critical Issues.

It is my belief that if Bible-believing ELCA members knew the truth about what the ELCA is teaching and believes, they would not stand for it. They would demand change and seek to end affiliation with the Evangelical Lutheran Church in America.... more
Revelation 22:14 NKJV Blessed are those who do His commandments, that they may have the right to the tree of life, and may enter through the gates into the city. 15 But outside are dogs and sorcerers and sexually immoral and murderers and idolaters, and whoever loves and practices a lie.
1 Corinthians 6:9 NKJV Do you not know that the unrighteous will not inherit the kingdom of God? Do not be deceived. Neither fornicators, nor idolaters, nor adulterers, nor homosexuals, nor sodomites, 10 nor thieves, nor covetous, nor drunkards, nor revilers, nor extortioners will inherit the kingdom of God.
Galatians 5:19 NKJV Now the works of the flesh are evident, which are:adultery, fornication, uncleanness, lewdness, 20 idolatry, sorcery, hatred, contentions, jealousies, outbursts of wrath, selfish ambitions, dissensions, heresies, 21 envy, murders, drunkenness, revelries, and the like; of which I tell you beforehand, just as I also told you in time past, that those who practice such things will not inherit the kingdom of God.
Question For You
Are you ready to meet the Creator of the Universe? Are you ready to be judged by a holy and perfect God, Jesus the Christ?
---
Related Reading
What is Deception and how does this affect me?
Are You Attending A False or True Church
Deception And Where Does It Take You
Have a question about Beware of the False Prophets
Click Here to Ask Your Question
August 01, 2018 - LHWMThank you for reading this Bible Study teaching. We hope it brought you closer to Jesus. Have a question about this bible study? Great ask your question by clicking on the button. We also accept prayer request, God Bless You.
response by LHWM --->
---