Have You Encountered Christ?
Views 286
---
Paul is telling us who he had become "by the will of God." God, through Jesus Christ, had called him to be an apostle. Which is a messenger who brings the Good News in Christ. But Paul did not always have faith in Jesus as his Messiah.
Every believers life is divided into two parts, which are, life without faith in Jesus as their Messiah and their life committed to Jesus Christ by faith. Paul is no exception.
Who Was Paul Before Christ
Saul of Tarsus ---> 3. Early character. Saul's life previous to his conversion was distinguished on account of great wickedness. He declared that he was,
a. a persecutor (1 Corinthians 15:9);
b. a blasphemer;
c. an injurer;
d. an unbeliever;
e. the chief of sinners (1 Timothy 1:12-15)
Condensed Biblical Encyclopedia
We can not see our sinful self until the Light, Jesus Christ, shines in the darkness of our sinful heart and mind.
We first hear of Saul (Paul) in Acts 7:58, where we find "a young Saul," at the stoning of a believer named Stephen. He agrees with Stephen's death sentence and was watching over the clothes of those who are stoning Stephen to death.
For Saul this was not enough! In Acts 8:1-3, Saul is now setting out to destroy the Way (church). He goes from house to house to drag anyone, men and women, to be imprisoned for spreading the Gospel of Christ.
In Acts 9:1-2, The persecution was so heavy the believers left and scattered everywhere. But they were not silent they started preaching the gospel wherever they went. This was not acceptable to Saul (Paul), so he ask the "high priests," religious leaders, for letters "to the synagogues of Damascus." Why? He was going there to hunt down and bring back those spreading the Gospel of Christ.
Change the names and it equals the news of today. The hatred of Jesus Christ, God, has not lessened or stopped. But those submitted, led and controlled by the Holy Spirit are a light the Holy Spirit uses to;
John 16:8 NASB And He, when He comes, will convict the world concerning sin and righteousness and judgment; 9 concerning sin, because they do not believe in Me; 10 and concerning righteousness, because I go to the Father and you no longer see Me; 11 and concerning judgment, because the ruler of this world has been judged.
This is the work of the Holy Spirit in the world and it is through believers that His work is done. People love their sin and/or do not want their sin exposed, so their hate kills.
John 3:19 NASB This is the judgment, that the Light has come into the world, and men loved the darkness rather than the Light, for their deeds were evil. 20 For everyone who does evil hates the Light, and does not come to the Light for fear that his deeds will be exposed.
Saul thought, just like many today, he was righteous before God through his works. He was not looking for righteousness he believed he was already right with God. God shows him the truth.
Saul Encounters Christ
Saul (Paul) on his way to Damascus to round up, bind up, and pack up believers to take them back to Jerusalem for imprisonment, had a surprise coming.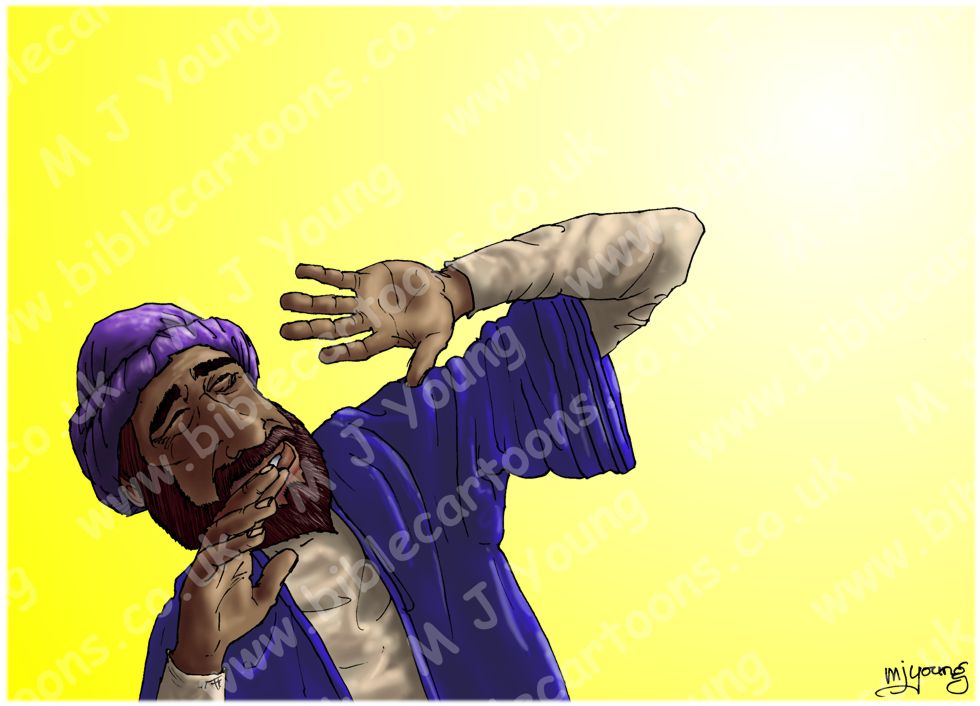 Acts 9:3 NASB As he was traveling, it happened that he was approaching Damascus, and suddenly a light from heaven flashed around him; 4 and he fell to the ground and heard a voice saying to him, "Saul, Saul, why are you persecuting Me?" 5 And he said, "Who are You, Lord?" And He said, "I am Jesus whom you are persecuting, 6 but get up and enter the city, and it will be told you what you must do." 7 The men who traveled with him stood speechless, hearing the voice but seeing no one.
Jesus knocked him to the ground. Saul was given a new heart and mind. He was transformed from the inside in Christ. He was baptized in the Holy Spirit and became a new creation in Christ.
Saul knew at that very moment that:
1. Jesus is alive
2. Jesus is the Messiah
3. Jesus is God
4. Jesus is the only way to God the Father
Saul Changed His Name
Using his Roman name was fitting for the man who proclaimed that he would become "all things to all people," a Jew to the Jews in order to win the Jews, weak to the weak in order to win the weak, etc., all for the sake of the gospel (1 Corinthians 9:19–23). Adopting his Roman name would allow Paul to approach the Gentiles to whom he was sent and speak to them in their own language, becoming as one of them and setting them at ease. It is also possible that Paul gave up the use of his Hebrew name, Saul, with its regal connotation and chose to use his Roman name, Paul, meaning "little" or "small," because he desired to became smaller in order to present Christ as greater (cf. John 3:30)... read more
Acts 9:20 NASB Now for several days he was with the disciples who were at Damascus, 20 and immediately he began to proclaim Jesus in the synagogues, saying, "He is the Son of God." 21 All those hearing him continued to be amazed, and were saying, "Is this not he who in Jerusalem destroyed those who called on this name, and who had come here for the purpose of bringing them bound before the chief priests?" 22 But Saul kept increasing in strength and confounding the Jews who lived at Damascus by proving that this Jesus is the Christ.
Instead of going to the synagogues to take believers to prison in Jerusalem, he is now, himself, preaching "He (Jesus) is the Son of God," and proving "Jesus is the Christ."
When We Encounter Christ Radical Changes Appear
1. In Christ Jesus we are radically changed on the inside which shows up on the outside. Our heart and mind now love Jesus Christ. Our heart loves God's word and ways. Though we still contend with our flesh, we hate sin.
2. God saves by His grace (Acts 9:15). Saul (Paul) believed it was his works of the law that made him right with God. However, an encounter with pure holiness opens our eyes for us to see we are devoid of holiness (Isaiah 6:1-7).
In Ephesians 2:1-10, Paul wrote this through the Holy Spirit and Paul knew this personally.
All are born with a sin nature and separated from God. God is life so this means we are all born spiritually dead. Sinning does not make us sinners, we sin because we are sinners. Here we see the congregation of the church, sinners delivered from their sin nature. Paul saw that about himself in a moment when he saw pure holiness. But in the flash of a moment he also saw that God is-
1. Rich in mercy
2. Has a great and intense love for him
3. He was dead in sin but God has power over death and sin (Matthew 9:18-22, John 11:14)
Leaving The Past Behind
Paul was a persecutor of Jesus Christ (Acts 9:4). Do not let anyone tell you your sinful life is to great for God to forgive.
God knows who we are without Him.
Romans 3:10-18 tells us everyone is guilty before God, no one is good, and no one seeks God on their own. Romans 6:23 tells us the wages of sin is death. This means no one deserves salvation and everyone deserves eternal judgment.
It is God's grace, mercy, and love that saves. These were shown to the world through the cross and death of Jesus Christ, Who paid the wages of sin, death. It is the cross, blood, and death of Jesus Christ that paved the way to salvation and eternal life. Jesus Christ is eternal, as He was resurrected on the third day from death to life, so shall all believers be resurrected in Christ.
John 17:25 NASB "O righteous Father, although the world has not known You, yet I have known You; and these have known that You sent Me; 26 and I have made Your name known to them, and will make it known, so that the love with which You loved Me may be in them, and I in them."
God-the Father is known by and through God-the Son. In Christ believers have God's love in them. In Christ, Jesus Christ is in us and we are in Him.
1 Corinthians 1:19 NASB For the Son of God, Christ Jesus, who was preached among you by us—by me and Silvanus and Timothy—was not yes and no, but is yes in Him. 20 For as many as are the promises of God, in Him they are yes; therefore also through Him is our Amen to the glory of God through us. 21 Now He who establishes us with you in Christ and anointed us is God, 22 who also sealed us and gave us the Spirit in our hearts as a pledge.
God's love comes with promises and they are yes and amen in Jesus Christ.
---
Related Reading
Faith
Journey Of John
God's Love on Faith
Have a question about Have You Encountered Christ?
Click Here to Ask Your Question
August 01, 2018 - LHWMThank you for reading this Bible Study teaching. We hope it brought you closer to Jesus. Have a question about this bible study? Great ask your question by clicking on the button. We also accept prayer request, God Bless You.
response by LHWM --->
---