Doctrine - Our Walk With Jesus
Views 327
---
Jesus is the cornerstone, foundation, and head of the church.
When the cornerstone of a stone building is not perfectly aligned the entire building will be off. When the foundation of a building is weak and/or not level the building does not function properly and will fall. So, when the mind is not able to make sound or good judgments concerning what is profitable and godly, life moves from one chaotic mess to another.
Last time we looked at definitions, the instability of unsound
doctrine, and the necessity of sound doctrine. It is sound doctrine that keeps us from being pulled into the lies of Satan and having our life tossed around as if it is on a stormy sea. Sound doctrine gives something very important, maturity.

Hebrews 5:11 HCSB We have a great deal to say about this, and it's difficult to explain, since you have become too lazy to understand. 12 Although by this time you ought to be teachers, you need someone to teach you the basic principles of God's revelation again. You need milk, not solid food. 13 Now everyone who lives on milk is inexperienced with the message about righteousness, because he is an infant. 14 But solid food is for the mature—for those whose senses have been trained to distinguish between good and evil.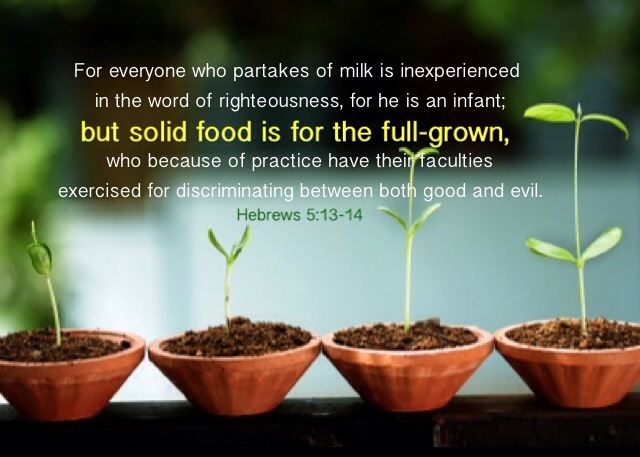 Are you being fed baby food or solid food? Do you know the difference? Does solid food offend you? What is being taught from your church pulpit? Is your loyalty, trust, and commitment for Jesus only or are you committed to your church and the person leading the church?
The world as a whole is rejecting God and His Son, Jesus. Paganism, occults, universalism, humanism, Satanic worship, etc. are on the rise and one day will merge into a one world religion.
Today the voices declaring "gods" is getting louder. So the idols are made by the hands of man, secured by the hands of man, and maintenced by the hands of man so the idol can be worshipped as a god. This is why it is important to know the One in whom you believe, because God will will bring a famine.
Amos 8:11 NASB Hear this! The days are coming— this is the declaration of the Lord God— when I will send a famine through the land: not a famine of bread or a thirst for water,
but of hearing the words of the Lord.
This not a physical famine but a famine where people do not want to hear "the words of the Lord." There is no tolerance for truth and sound doctrine. If one is eating solid food then this is what it should look like (Hebrews 5).
"Doctrine, then is scriptual teaching on theological truths. But it is deeper than biographical facts alone. As J. Gresham Machen pointed out years ago, Jesus death is an integral historical fact but it is not doctrine. Jesus death for sin (1 Cor 15:3) is doctrine. Doctrine is indispensable to Christianity. Christianity does not exist without it." (Bakers Evangelical Dictionary of Bible Theology)
If you are receiving and believing false doctrine you have no truth. Satan mixes truth with lie. Satan being the father of all lies, hates sound doctrine and verse by verse teaching, i.e. Truth. So, before we embark on this journey ask some questions.
1. Are you truly living as God requires including attitude and mind sets? 2. Is there understanding about your relationship with God-the Father? 3. Do you understand your relationship with God-the Son? 4. Do you know the truth concerning your relationship with God-the Holy Spirit? 5. Do you know beyond knowledge the love of Christ? 6. Do you understand God-the Father's relationship to Jesus-His Son? 7. Do you understand Jesus relationship to His Father?
Believers become mature through the teaching and receiving of sound doctrine and with that maturity comes deeper and deeper trust in the Lord God.
Ephesians 2:12 NASB At that time you were without the Messiah, excluded from the citizenship of Israel, and foreigners to the covenants of the promise, without hope and without God in the world. 13 But now in Christ Jesus, you who were far away have been brought near by the blood of the Messiah.
The sinners are in this dark, bleak, cold world without God and hope. Peoples decisions are reflecting their hopelessness.
We, as believers, are the light in this darkness and the darker it becomes the brighter we will shine. We are also salt and salt in a wound is painful. The darkness will not welcome the light and will do all it can to extinguish it out (John 3:19-21). But we have a living hope and some will see and desire because God is calling them to Jesus.
1 Peter 1:3 NASB Praise the God and Father of our Lord Jesus Christ. According to His great mercy, He has given us a new birth into a living hope through the resurrection of Jesus Christ from the dead 4 and into an inheritance that is imperishable, uncorrupted, and unfading, kept in heaven for you. 5 You are being protected by God's power through faith for a salvation that is ready to be revealed in the last time. 6 You rejoice in this, though now for a short time you have had to struggle in various trials 7 so that the genuineness of your faith—more valuable than gold, which perishes though refined by fire—may result in praise, glory, and honor at the revelation of Jesus Christ.
We need sound doctrine to mature us, give us confidence and blessed assurance in our salvation. We will gain confidence and trust in Jesus that He will keep us to the end and we will be resurrected and live with Him forever. Sound doctrine assures us we have been renewed and set apart for the purposes and good works of God. We will rest secure in the finished work of Jesus the Christ on the cross knowing we are protected and shielded by the power of God. This is our ever-living hope. Hope for believers is not a worldly "cross your fingers" type hope, it is knowing and trusting in the unseen knowing it will be seen.
---
Related Reading
Doctrine Teaching Lost in Translation
Beware of the False Prophets
Have a question about Doctrine - Our Walk With Jesus
Click Here to Ask Your Question
August 01, 2018 - LHWMThank you for reading this Bible Study teaching. We hope it brought you closer to Jesus. Have a question about this bible study? Great ask your question by clicking on the button. We also accept prayer request, God Bless You.
response by LHWM --->
---